VC Message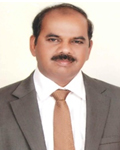 Veer Surendra Sai University of Technology, Burla has a long and pleasantly nostalgic history. With a humble beginning of 20 students across three branches of Engineering as University College of Engineering in 1956 has kept growing in size and importance leading to its up gradation to a University in 2009.
This has brought with a larger intake of students across various fields of Engineering and a need for infrastructural, process and orientation to take a paradigm shift towards greater research, consultancy capability, improved and enhanced centers of learning to catapult itself onto the National map of premier technological universities.
VSSUT has highly qualified and capable faculty to assist the ever eager and educationally inclined students to tread in the right direction to grow from strength to strength, excelling in their careers.
VSSUT being a one of its kind stand-alone Technological University in Odisha has shouldered a great responsibility to build technocrats that can assist the society as builders of the same rather than going with the established flow of seeking employment. In order to instill this confidence and to equip the students of VSSUT with the skills to take up challenges that have stayed untouched, we are striving to build the University in all aspects. Despite walking in the right path, we have miles to go to fulfill our endeavors. At VSSUT we are planning to build specialized centers for learning like, e-learning center which is nearing completion, centers for specialized research in all fields of Engineering, inviting industry to suggest improvements to meet the current trend in the industry, we are planning to setup incubation centers to allow for new ideas to take shape before they set foot into the outer world to take the test of time. We would do so by having an Entrepreneur Development Cell, Bureau for Industrial consultancy to provide our technical know-how to help the society, conduct regular visiting faculty lectures and workshops to improve the student and staff exposure.
We are confident that we can grow stride by stride with the plan that we have, by putting the same into action to make sure VSSUT stands in the league of world class centers for technological learning.
E. Saibaba Reddy
Vice-Chancellor