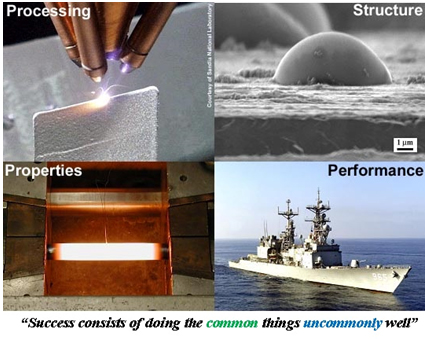 The department of Metallurgy & Materials Engineering (MME) at VSSUT Burla, established in 2013, is a unique initiative in the present science and technology education and research scenario of India. This Department is devoted to the design, creation and fundamental understanding of materials that are capable of enhancing the human experience.
At present the department offers a 4-year undergraduate course in engineering. This unique stream in engineering helps students gain technical knowledge in diverse aspects of Physical Metallurgy, Extractive Metallurgy and Mechanical Metallurgy. The manufacture, design, production and testing of the metals and alloys and their deformation and failure mechanisms are the main contents of the course curriculum. Information is provided also in materials characterization and its structure – property relationship. On completion of this course, the student gains skills to get in to a rewarding career in industrial, academic or government sector.
Currently, the focuses of department activities are multi-directional with an emphasis on both research and education. Even at its incipient stage, the department has drawn a road-map to progress via partnership. Accomplishments in this direction include: (a) Collaboration with the Institute of IITS and NITS; (b) Setting up a collaboration with different government research organization like Defense Research Development Organization and National Metallurgical Laboratory (NML), Jamshedpur; IMMT Bhubaneswar (c) and also collaborating with other metallurgical industries like Steel, Aluminum and Iron to bridge the gap between theoretical knowledge and real world industries requirement.
Vision
To become a globally prominent department in the field of metallurgy and materials engineering and a center of excellence.
Mission
Our mission is to promote student achievement and preparation for global competitiveness by fostering educational excellence in the field of materials and process.
To achieve the vision our heedful faculty will use effective, continually updated methodologies.
To mould metallurgy and materials engineering graduates with professional excellence and social responsibility.
To carry out quality research of national and global relevance.
To provide highest quality technical support and knowledge to industries.